Review Plan and Timesheet
If you have "Time periods management" permission, you will see the "Review plan and timesheet" in Management menu. And as the manager of a user, you can check the daily scheduling and timesheet of that user. If you see this menu but you cannot see any information, it means that you have been given "Time periods management" permission but have not been selected as a manager for any user.
The status column may show seven modes: "Planning," "Planned," " Waiting for review, "Approved", Returned", "Rejected", "Recording(without schedule)."
Planning
This means that the user has scheduled for that day, but her scheduling time has not yet expired. You can check the user's daily scheduling and let her know if you need her to do something else on that day.
Planned
The user has scheduled and the scheduling deadline has expired, but she still has time for recording the timesheet.
Waiting for review
If the deadline for editing the user's timesheet expires, the timesheet is sent to her manager and "Waiting for review" will be displayed as its status. By clicking on the phrase "Waiting for review" as shown in the figure below, the manager can confirm, reject, or return timesheet to the relevant user.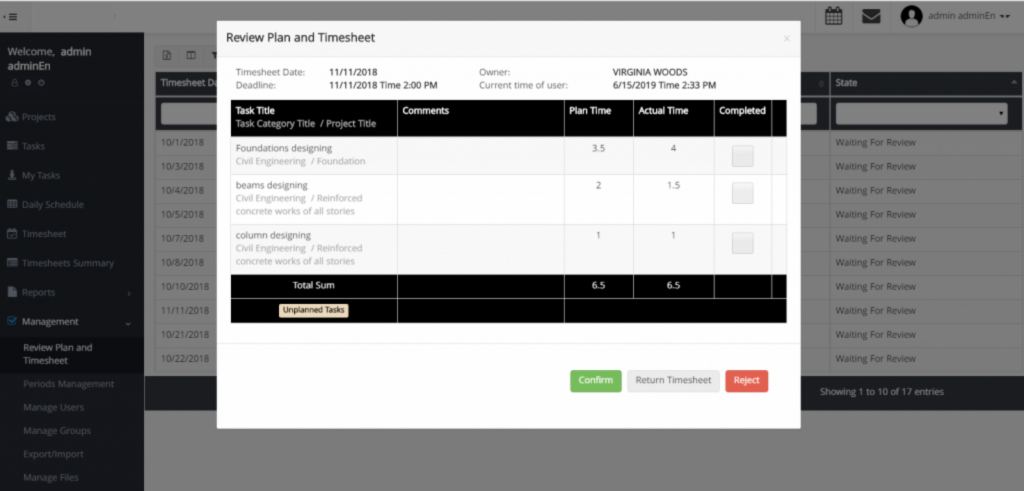 If a manager rejects a timesheet, it is not possible for the user to modify it. But if a manager returns a timesheet, she can add the additional description and set a new deadline for sending the timesheet. When the user logs in, she will be notified of the rejected or returned timesheet.